Book Catering
Creative, Professional & Attentive
A Unique Bride
in search of a Unique Caterer
Making Your Day, Very Special
West of Orleans is your personal wedding caterer and we get you. Creative, professional, and attentive to the demanding needs you'll require from the beginning planning stages to the finale of your wedding day.
Taking your vision and transforming it into the reality of your dreams, we are happy to assist you and your wedding coordinator for this momentous occasion.
Take the guess work out of menu planning, book a private tasting where you, and your groom-to-be have your choice of up to 5 select menu items prepared in our commercial kitchen just as they would be for your wedding.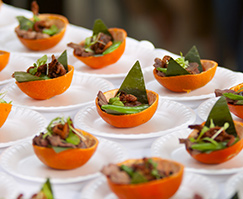 Food Sampling
Try Before You Buy
Food samplings are an excellent way to try-before-you-buy as you meet one on one with our chef and customize a fabulous meal to complement your beautiful day.  (Please note: Tastings are limited to 6 persons and are charged at $25pp, unless you book your event with us).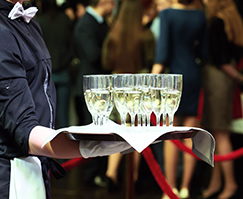 We Love to Help!
Bridal Showers, Receptions & More
Utilize our catering services in other areas leading up to and post wedding day like: Bride and Friends Cook-n-Chat, Bridal Showers, Rehearsal Dinners, Wedding Receptions and Post Wedding Day Brunches.
Booking West of Orleans goes beyond the menu, some of our services include: Assisting with Beverage and bartending services with creative friendly bartenders who can pour, shake and stir your signature Mr. and Mrs. Cocktail or martini. Going a step further, we'll gladly assist you in navigating the endless options of service dinner wear you'll need for your guest. From standard to upscale quality, our preferred rental vendors are just a call away.
Our professional staffing is based at a rate of $35 per hour, plus gratuity per staff member at a base time minimum of 7 hours per staff member. After the 5-hour minimum, there is an automatic charge (to card on file) of $45 per hour, per staff member unless otherwise noted and agreed upon when finalizing your event package.
Your Special Event
Deserves to be the Best You've Imagined
In order to thoroughly execute quality services:
Buffet receptions based on 100 guest, require (6 – 8) wait staff persons, at a minimum of 8 hours per staff member.
Plated sit-down services require (8 – 10) wait staff at a minimum of 8 hours minimum per staff member.
Quality, professional, committed staffing from the moment your guests arrive to the cake cutting.
Events utilizing china a quote may be necessary of any additional staffing.