Welcome to West of Orleans!
Our concept for West of Orleans is to keep it simple, consistent, unique. With more than 30 years in the industry. West of Orleans is a family owned to-go and catering concept with a one-of-a-kind menu that blends the best of flavors rooted in Creole, Cajun, Southern and Jamaican-Jerk influences. In addition to the skillful art of southern smoked meats our menu also includes a variety of full-flavored, healthy-southern gluten-free and vegan side options.
Our goal is and will continue to be: To create and share delicious food with you, our family, friends, and community.
Thank you for visiting West of Orleans. Please come again soon.
Do you offer dine-in?
Our business model is simple, and unique. Don't pass up a good thing just because it's take-out-only. Remember, hidden gems are worth it.
Are you open on weekends?
We reserve weekends for catering business and or to spend quality time with our family. Our weekday hours are Tuesday through Friday from 11 AM to 7:30 PM. Due to catering demands, these days and hours may be affected. We recommend keeping tabs on us through our FB, or IG page to stay in-the-know or you can give us a call.
Is everything spicy?
Everything on the menu has flavor but everything is not spicy. We are happy to help with menu choices when choosing items to accommodate palates that are flavor sensitive.
What Gluten-free, Vegan, or Vegetarian options do you have?
Too many to name, but the short answer can be found under the "Southern Sides" and "Creole Salads" options on the menu. We also offer a few Pescatarian dishes. You can find those in the "Bayou" section.
Do you use Peanuts or Peanut oil?
The one and only item on the menu with nuts is our "Nutty Rum Cake" which contains pecans. Everything else is nut-free.
Do you use MSG?
We never add MSG ever. All seasoning blends, roux, sauces, and stocks are custom built and made in-house.
How do I contact you for catering?
Catering inquires and request are answered by calling us at the restaurant during business hours or by email: chefmarcus@jmarcinc.com.
Is there a minimum for weekend pick-up orders?
We offer weekend bulk item pick-up orders at a $350 minimum. (Requires 72-hour advanced notice and confirmation)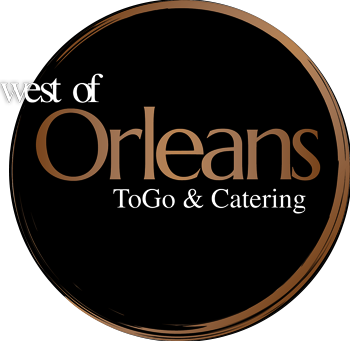 Recommended from a co-worker and they definitely did not let me down. This place was amazing and service was just that as well! Highly recommend for a taste of NOLA, on the west coast.
Evan P.
Love this place. They do it right every time. Lovely people to give business to I go at least once a week. The seafood gumbo is amazing and the brisket comes out right every time
Alex H.
West of Orleans is my new FAVORITE go to. The FRIED SHRIMP PO BOY was over the top Delicious. SUPER FRESH and cooked to perfection. I thought i was going to cry when i got to my last bite. I can't wait to go back and try something else. Woo-dat.
Jeff C.
Holy yum! Their food here is excellent so flavorful and yummy. I drove by here and I was interested because I hated a place in the valley and we don't have a Cajun place around here so I gave it a shot and it was very very good the cornbread was excellent the desserts were yummy and the jambalaya was amazing.
Carolyn G.
We ordered our holiday dinner for six from West of Orleans and it was the very definition of a perfect meal. The Chardonnay chicken was the most delicious chicken I have ever eaten. (I ate far more than my fair share!) the Tri tip was perfect; everything was perfect. Even vegetable haters loved the vegetables and the red beans and rice was so good. The dessert was a banana pecan spiced bundt cake that was--not to sound repetitive, PERFECT! Oh, I forgot to mention hands down, the best cornbread you will ever eat anywhere. And the orange marmalade honey butter? You guessed it--perfect! Marcus never disappoints. He is an amazing chef and owner who genuinely cares about every dish he serves.
Katy R.
Great Cajun food! I've only been once, but can't wait to go again. Incredible menu and the food was incredibly good! Definitely off of the beaten path, and I never would have known about it, if I hadn't found it here. Yelp really delivered by suggesting this place. Highly recommend!
John L.
I finally made it here after hearing so many terrific reviews. Place your order online and pick it up on your way home. I had the Red Beans and Rice - it was delightful, but paled in comparison to the Gumbo. Currently enjoying my bread pudding. Cannot wait to go back and work through the menu.
Robert T.
Excellent place for Cajun food! Friendly people, very good blends of flavors. Prices and portions are reasonable. If you want something different, I highly recommend them, they are a true treasure for Newbury Park.
D V.
Delicious food! Love the fried catfish, mac n cheese, jerk wings, and po boy's. It's a jewel of flavor and culture in the community. I only wish they were open more often! Service is great. Feels like picking up a home cooked meal from a family member
Stephen J.